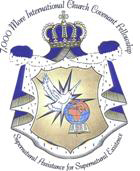 It is the vision of the Day Star tabernacle International to minister to churches worldwide. The role as a spiritual father is on the Apostle Horton takes seriously. Today, there are more than 600 covenant churches in fellowship with the Day Star Tabernacle International located around the U.S., as well as in India, Singapore, Africa and the Philippines.

For the last 8 years, the Day Star Tabernacle has hosted a fellowship for the gathering of the saints. The 7000 More International Church Covenant Fellowship is normally the third week in June on The Day Star Tabernacle campus. A full course breakfast is served for the first 3 days at 7:00 A.M. Power packed word-shops are held each morning by different covenant pastors. The youth assemble in the Family Life Center for separate services. At noon, everyone meets back in the sanctuary for an "hour of power". Nursery is provided for infants. Night services are held nightly at 7:30 P.M. On Saturday, the "Dinning with Jesus" picnic is held on the campus. Churches gather their teams and we let the games begin. The games include: softball, volleyball, basketball (youth, men, & women), pool, ping pong, 3-legged race, tug of war and pony rides.

The fun doesn't stop here. The 7000 More International Church Covenant Fellowship culminates on Sunday morning for service. All this is hosted by the Day Star Tabernacle International.

For more information, call The Day Star Tabernacle at 770-949-5683.