HISTORY
| A LOOK AT DAY STAR |
DIRECTIONS/TIMES



God gave Apostle Horton the vision for the Day Star Tabernacle to be built in the form of a star. The Day Star Tabernacle is used to minister to an ever increasing harvest coming into our fellowship as we heed His call to bring a clear sounding word, and serve as a beacon of light to the West Georgia area.
The 17.63 acres of the campground includes: The Family Life Center, The Sanctuary, The Sonshine Gymnasium, The Courts of Praise Tennis Courts, The Agape Place and our Home of the Saints softball field and picnic area.
"And I heard a great voice out of heaven saying, Behold, the tabernacle of God is with men, and he will dwell with them, and they shall be his people, and God himself shall be with them, and be their God."
Revelation 21:3
Catch the vision...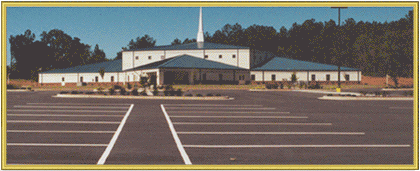 The Day Star Tabernacle International invites you to worship with us. We look forward to seeing you and God bless!